About Marie & Marko's Collies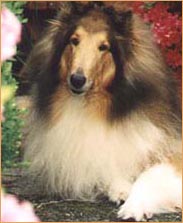 My Dedication to Collie Health
Since 1976, I've breed rough collies for soundness of temperament and health; for collies that are not only intelligent but are representative of the breed. With the motto "Quality, Not Quantity", I have now bred over 50 American champions. All our dogs, have current shots, periodic blood and thyroid testing, are wormed, and have eye exams by a board certified ophthalmologist. I'm involved with the DNA testing at Texas A&M, because I support the advancements in the study of collie health. I contribute to this important cause by having all of our dogs added to the databases at the Collie Health Foundation and Texas A&M programs. All of our dogs are socialized and have wonderful temperaments. They are leash and crate trained and have a written health guarantee.
The History of Marko's Collies
My fascination with breeding and showing rough collies started for me when I went to my first Collie Specialty in San Diego, California in 1976; it was instant love & passion. I set a goal to breed and finish a Champion (like the beautiful dogs I saw exhibited at the show) in three years or less. I read and studied everything I could get my hands on about this beautiful breed.

I leased Ch. Rosslane Amelia in 1976 and bred her to Ch. Misty Valley Cherokee. From that litter, born in 1977, I kept a female who finished her title in 1979. She was Am/Can Ch. Marko's California Dreamer. She became the dream of the future. With limited breeding of one litter every one to one half years, we have now bred over 50 American champions with numerous other champions in both Canada and Japan. In 1993 I was honored with the Collie Club of America Award of Top Rough Collie Breeder. I was also honored as one of the Breeders of the Decade, 1990-2000.

We have had numerous dogs in the coveted title of top 10 and have had all breed group winners as well as National specialty winners. In 1999, we were proud to have bred and owned the #1 rough collie who also won an A.O.M. at Westminster. We breed for healthy dogs with outstanding temperament and intelligence along with the beauty explained in the breed standard and the soundness of body & mind to do any job asked of them, whether they are in the show ring or loving family companions.

Marie Markovich - Marko's Collies





The House


The Kennel and Grooming areas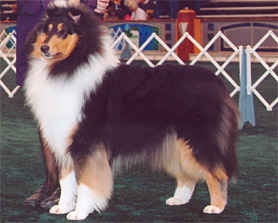 "Molly" took Best Of Breed at Olympic Kennel Club May 8th, 2008 under Monica Canastrini

For proper health we recommend that all collies we place continue with our health routine, which includes:
Maintaining ideal body weight, as well as providing premium foods and supplements is a very important part of our collies' health routine. The premium food we've personally chosen and recommend is Royal Canin.
Keeping your collie's teeth spotlessly clean has shown to help prevent diabetes, kidney and heart disease.
Periodic blood and thyroid testing to proactively address any possible future health issues.
Vaccination through puppyhood and titer testing for booster shots in adulthood to prevent infectious disease.
Exercise is very important and helps improve the quality of your collie's later years. If your collie doesn't have another dog to romp with daily, then daily walking is the best way to give your collie the proper exercise he or she needs.